leading manufacturers of large-sized
high-end diamonds
Established in India around 2 decades back, we are one of the leading manufacturers of large-sized high-end diamonds.
Designated Partners of Kapu Gems – right from inception has a vibrant, optimistic and constructive thought process with heaps of valuable experience in the
industry. Their foresightedness can be gauged from their unique business model where continuous innovation and refinement are practiced.
why kapu?

We are globally renowned for selling substantial number of certified diamonds through website and excellent standards of manufacturing with detailed grading.


We receive direct rough supply from the leading mining companies such as:
Rio Tinto Diamonds
Arctic Canadian Diamond Company
CanadaMark
NAMDIA
De Beers Group of Companies 
assuring you consistent supply of large-sized diamonds at best competitive prices.

We strive to offer the
best GIA certified diamonds
along with innovative long term beneficial services; and are committed to provide you an utmost quality with appropriate technology and excellent workmanship.

The door to Door Service with Insurance.
Shipment through globally reputed logistics (within 3-4 working days).
Big savings on shipment charges.
Fulfill clients need from India to Around the World.

24X7 CRM support.
Perfect Inspection [QC] of the goods selected by our Client.
Online Availability of Images, Videos, and Certificates.
Competitive Pricing.
"Transparency, Honesty and Ethics are the founding principles of the company, are never compromised in any circumstances."
Maintain Excellent Standards in Cut, Polish & Symmetry
Support Kimberly Process & WDC System of Warranties
Discourage discrimination and Unfair Labour practices
Comply with Statutory & Regulatory requirements
Stop Bribery & Facilitation Payments
Use correct disclosures for the Diamonds
Provide Safe & Healthy work environment
Deal with Trust & Conviction
Prevent Money Laundering & Financing of Terrorism
Uphold Human Rights & Rights of the Child
Assess and Manage the Environmental Impacts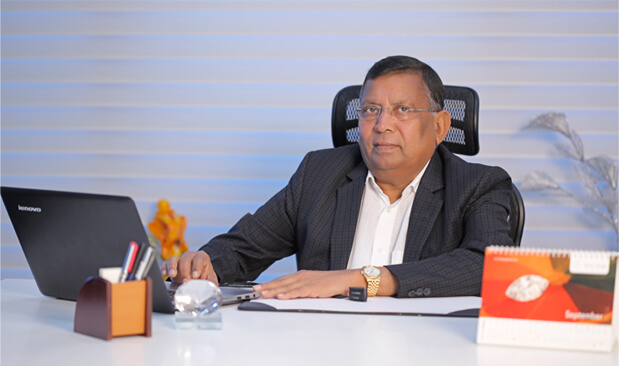 Diyalbhai Vaghani
It is with this knowledge that I entered the diamond business, after leaving my job in content, around 40 years ago. My fascination for these precious stones gave me the impetus to not only make a drastic career change, but also have a singular dream about making a mark in this highly competitive industry.
Over the years I have always strived to work with integrity, dedication and modesty. I count myself very lucky and grateful to have found a devoted team of colleagues who believe in the same.
The journey to success has indeed been challenging. However, with an enthusiastic team, timely foresight and innovative strategies, Kapu Gems has been able to stay strong and have a distinct brand value; even in the face of recession.
We cater to a wide network of clients from all over the world, including diamond wholesalers, jewellery manufacturers, retailers and designer boutiques. Our main goal is to provide all our customers with the highest quality diamonds and best designs in premium diamonds.
I welcome all our stakeholders to be a part of our dazzling future.
'Diamonds are trumps in the game of hearts.'
-Robert Elliott Gonzales